West Wycombe Village Buckinghamshire
West Wycombe Village Buckinghamshire
West Wycombe Village. Tel: 01494 533739. Open Weekends All Year. Weekdays Seasonally. Admission Charge. Supposedly of ancient origin, these unique caves were extended in the 18th Century by Sir Francis Dashwood, founder of the notorious Hellfire Club. Long winding passages lead deep underground through the Great Banqueting Hall and past various chambers in which are scenes of famous members of the Club, such as Lord Sandwich and Benjamin Franklin.
West Wycombe Caves

West Wycombe Park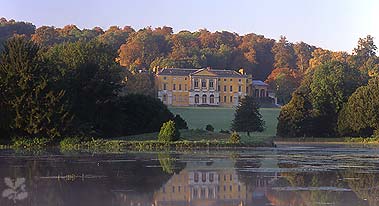 3 miles west of High Wycombe
Tel: 01494 523720. Open June, July, August.
Admission Charge to House and Grounds.
Fine Palladian mansion built mid-18th Century for Sir Francis Dashwood. Landscaped park contains garden temples, swan-shaped lake and statuary.

West Wycombe Village and Hill are also owned by the National Trust.